Radiology Clinic Rotation | Radiology in Main Clinic | General procedures | Common Procedure Codes
Radiology Clinical Rotation
As with all rotations, it is professional, and to your advantage to be early and be prepared. Come with your gown and store your backpack somewhere safe – that is NOT in radiology. All supplies will be provided for you. Pick up your supplies and put them in your room before seating the patient. You will be given a brief orientation.
Radiographic and FMX Capture Test Case
Radiology Block Grading Rubric for Class of 2020 and IDS 2019
​There are 4 acquisition test cases (2 PA's, 1 BWX, 1 Pano) and 1 interpretation test case (BWX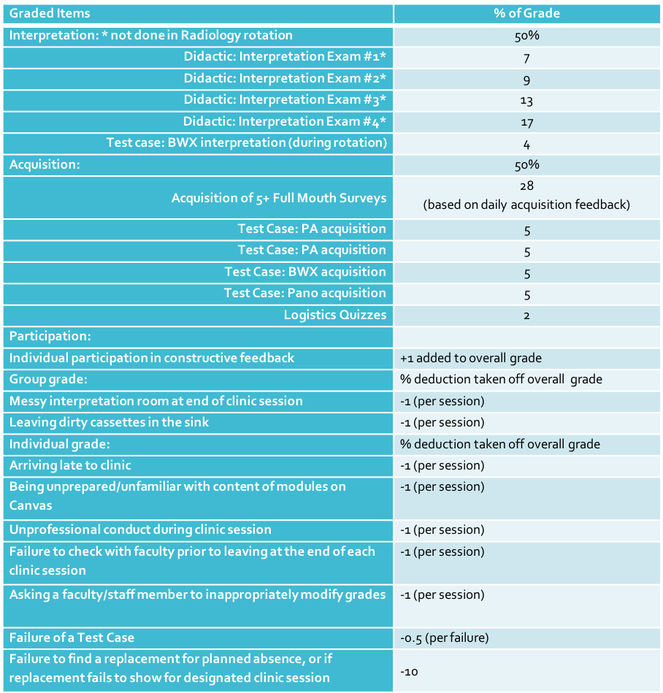 General Procedures
General Infection Control and Clinic Rules are Strictly Enforced!
Always clean and do standard infection control steps in the room before you start.  This includes wiping down the X-ray head, arm, chair, tube head, sensor, and keyboard. When you are finished taking images, disinfect and clean the room again just as you did before you started.  
Cover the control panel with a plastic barrier. We do not wipe down the control panel, as the wipes destroy the plastic.
Replace sensor barriers as needed. A tear will allow saliva to contaminate and eventually ruin the sensor. Remember: sensors are expensive, plastic is cheap!
No gloves are worn when you are beyond the control panel. That means NO gloves in halls. No one can tell that the gloves you have on are clean.
Do not touch your gown with your gloves!
Wear a mask and eye protection. After all, you are looking into the mouth and patients may cough in your face.
Prior to Seating your Patient
Before  you  seat  the  patient,  type  the  patient's  number  into  axiUm  and  go  to  the  "In  Progress"  tab.  Ensure that an FMX has been treatment planned and financially approved (P* removed).  If not, then go ahead and treatment plan it, have faculty swipe it, then have the patient consent to it, sign for it, and pay.
Prior to Taking any Radiographs
Seat the patient, discuss what you are going to be doing, and ask if the patient has any questions.   
Next, you must ask 4 questions before taking the first image:
When was the last time you had a full set of X-rays taken?
Do you have anything removable in your mouth (including piercings)?
Do you have TB or other infectious diseases?
For women, are you pregnant? (No matter what age!)
The background and response to these patient inquiries are:
We retake FMX on average every 5 years, but more often if there have been many changes since the last one was taken. We will retake images sooner than 5 years if the patient cannot get their FMX to Pacific or they are not of diagnostic quality.

Situations when FMX done sooner than 5 years:

Rapid periodontal breakdown
High or extreme caries risk
Hx of head/neck radiation
Patients with xerostomia – Sjogren's syndrome, medication induced

All dentures, eyeglasses, partials, piercings (tongue, nose), and hats must be removed before images are acquired. The patient must remove these items as the student or faculty will not do the removing. Have a cup and paper towel ready for the patient to use for these items.
If patient has active TB (not just a positive skin test), we do NOT treat them in the clinic or take X-rays.
If a patient may be pregnant, they have the option to wait and have images taken after they have the baby. However, the patient cannot be assigned or treated without images. It is safe to take an FMX on a pregnant patient, and you can assure the patient that several studies have proved this.

According to NCRP*, a pregnant female could safely receive a dose equal to 14 FMX for each month she is pregnant.
After the patient has answered all 4 questions:
Look inside the patient's mouth to determine presence/absence of 3rd molars and assess their general dentition.
Obtain a VERBAL START CHECK from faculty by presenting the patient information, your clinical findings, and their answers to the 4 questions.
Technique Tips and Guidelines for Taking Radiographs
General Tips:
XCP Devices:

Blue: anterior PA
Yellow: posterior PA
Red: BWXs

Sequence: Begin with vertical bitewings on premolars. Based on bone level, determine if horizontal or vertical bitewings indicated for molar images. Next, take anterior PA's followed by posterior PA's.
Use FMX 20 template for your images.  All slots do not need to be filled.  The goal is to take the fewest number of images and get all the required information.  
Note: You are NEVER authorized to do re-takes without faculty approval.

If you have not captured what you need on the image, STOP and get help. Do not proceed and take more images. This is  the time to correct your technique. It is your responsibility that the patient receives the least amount of radiation while capturing excellent diagnostic images. There are many tips and tricks you will be taught during this clinical block experience. As you gain experience, you will find that you will be able to acquire an excellent set of images regardless of the challenge.

If you are having trouble with long roots in PA images, ask a tech for help with the bisecting angle technique!
​We do NOT diagnose in radiology block. If a patient asks about an image be sure to let them know that the diagnosis will be made with his/her student dentist during the exam.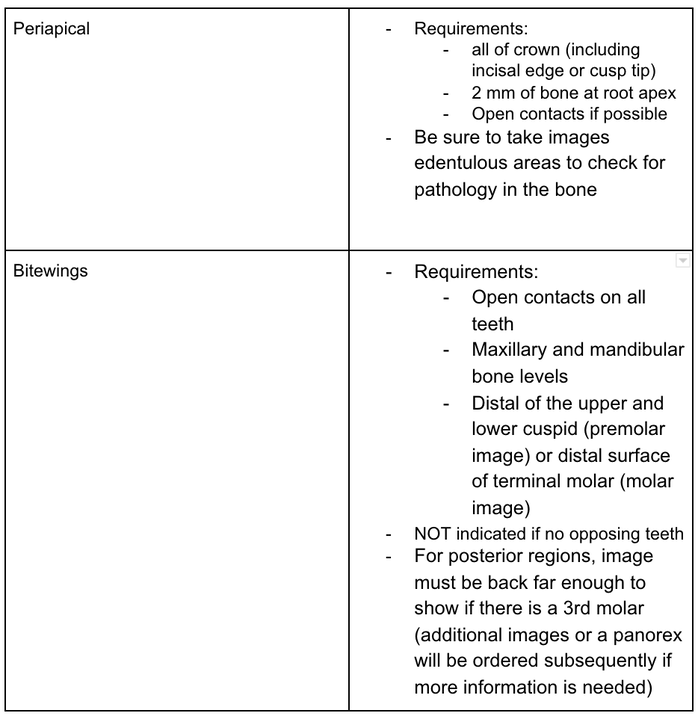 Radiology In Main Clinic
Before the patient arrives, look at MiPACS to see date of last radiographs. Students may take any indicated bitewings and individual PA's on main clinic floor. (FMX's need to be taken in radiology). Once patient arrives, students should also ask patients the date of their last x-rays in case they had them taken at other office. If the patient is new to the school and has had xrays taken but at previous dental office, have them send to radiology@pacific.edu with patient's name, birth date, date of image. If no radiographs were taken in the last year but a FMX or Pano has been taken in last 5 years, then need to proceed with intra-oral exam to determine what images are indicated.
Also note that patient with radiographs in the last year may still need new radiographs, depending on the findings from the intra-oral exam, i.e. pain, caries, etc.
​
Interpretation:
Must complete Radio Interpretation Form (RADINT) every time an image is taken. This form REQUIRES a swipe for approval after completing interpretation with clinic floor faculty.
Radio Interp Worksheet (RADRPT) is not required, but can be used if desired to guide interpretation process.
Using the ruler tool: You must first calibrate to the active area of sensor which is 32.9 x 25.8 mm
General Procedure Codes